Lucy is a pedigree Sphynx, she is a Chocolate Tortie Harlequin Odd Eye. She was imported from Hungary and went through health checks and quarantine upon arrival. Lucy is HCM screened, and Felv/FVR tested to ensure she is genetically healthy to breed
* Two Males Currently Available For Reserve *
Affection
Intelligence
Hygiene
Affection
The Sphynx breed has a lot of love to give. They are incredibly affectionate creatures, absolutely love attention and do well with children and other animals. They constantly are at your side or craving a warm crevice next to you on the couch. They will pursue their needs for attention most of the time. As most people know, cat watching is a great excuse to do nothing and the Sphynx breed has incredible personalities to experience. Some refer to these cats as the "dog-cat" as they will greet you at the door and also introduce themselves to your guests. When bored their mischief is on set on high and will playfully get into your household items. Sphynx cats do not like to be lonely! The kitten of your choosing will soon become your shadow and best furless friend. If you want to come home to a creature that will shower you with love, this breed is the fit for you!
Intelligence
Hygiene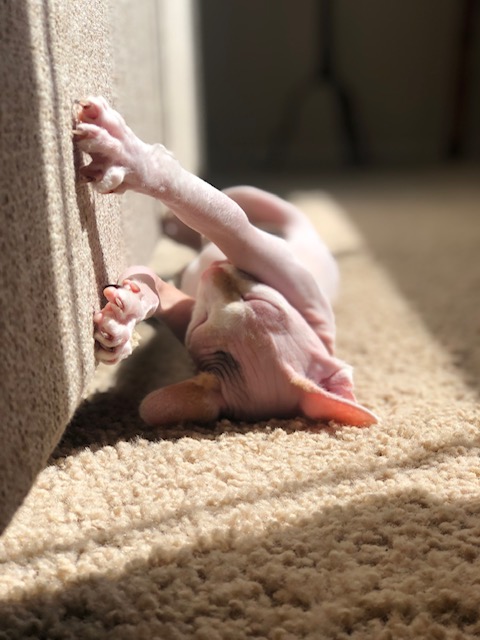 Frequently Asked Questions
How To Reach The Breeder?
Use our Contact Form below or please email me at rebecca@lucyslittlesphynx.com, you can also send me a direct message on our official Instagram page @lucys_little_sphynx to start your journey to becoming a Sphynx parent.